high tension fantastic joker
data urodzenia: 15.03.2014.
płeć: pies
FCI:
umaszczenie: czarny trikolor
waga: 18kg, wzrost: 53cm
​
hodowca & właściciel: Katarzyna Jakubczyk, High Tension
CEA, PRA, CAT free (7 tyg, 2018, 2019), Gonio free 2018
HD A, ED 0/0, SD/OCD 0/0, stawy skokowe rtg free, spondylosis free 2019
CEA/CH DNA carrier
TNS, CL DNA, IGS, RS, SN, GG, EAOD, DM, MC, vWD, HUU, PLL, POAG, XLPRA, DCM, primary hereditary cataract, Cystynuria Type I-A & Type II-A DNA normal, MDR1 DNA clear +/+
tarczyca normal 2019
tytuły, osiągnięcia:
Gdynia Winter is coming 2019 - Zwycięzca Quadruped, 13/39 Super Pro Toss&Fetch, TOP20 SPTF
Latające Psy Warszawa 2019 UPDOG - 6ty wynik, 10/58 ThrowNGo level 2, kwalifikacja do TNG Masters
​
rodzice
DOKUMENTY
O Poku
​
średni samiec, z charakteru synuś :) zrównoważony, normalny na co dzień, w domu "nie ma psa", ewentualnie "przytul mnie" :) wylewny w stosunku do rodziny, umiarkowanie entuzjastyczny do obcych (jeśli pozwalamy mu się przywitać), dobrze zachowuje się wśród innych psów, szczeniaków i dzieci, nie ma problemu z naszymi szynszylami. jest jedynym jajecznym samcem w domu i będąc na spacerze w towarzystwie naszych kilku suk i innego jajecznego samca, będzie zaznaczać swoją pozycję, w mniejszym gronie nie jest zbytnio kłopotliwy. kocha suczki i jest dumnym jolero :) nie boi się petard, burzy, strzałów i huków, nie miał problemu z gonieniem czegokolwiek, wszędzie bezproblemowo zostaje sam, odkłada się na treningach na czujnym lie down.
w pracy z dyskami jest bardzo skupiony, na bardzo wysokich obrotach, dobrze śledzi dyski i dobiera prędkość, ma ładne flipy, dobrą wytrzymałość, nie kasuje dysków. ćwiczy głównie dystans. nie odejdzie od pracy, nie zraża się niepowodzeniami i powtórzeniami, nie gasi się korektami ani presją. szybko i łatwo się uczy, nie ma problemów z rozproszeniami, wysoka motywacja na zabawki i jedzenie (choć poza domem lepsza na zabawki). uwielbia pływać :) bez problemu odnajduje się w każdych warunkach, jak np. galeria handlowa, zawody/wystawy, kawiarnia, jachty. jest dla nas bardzo przewidywalnym psem.
z wad: niepewnie czuje się na długich pomostach ;) mógłby skakać na frisbee jak ciocia Sza i mieć mocniejszy chwyt
​
Poker is our lovely boy, mom's and dad's beloved dog son ;) He's perfectly balanced in everyday life, just like his dam Korba. Calm and happy outside of work, but always ready to play or do something with us. He's focused and eager to work, when it comes to it. No problems with leaving him alone anywhere. No fears, no chasing problems. Highly motivated on discs/toys and food. Learns quickly and easily, no problems with distractions, repetitions and pressure, he won't go off of work. In general he is kind to other dogs, he loves females :) accept males and pups except when he's with all (4) our girls and other adult male, then Pok will show his position. He's good with strangers, children and our chinchillas. No idea about cats ;)
Pok has nice shaped flanks and balance on sheep, he works best with calm and quiet handling, he doesn't like when I'm yealing at him to lie down.
​
Bright Star Speedy Dream
CEA, PRA, CAT free Glaucoma free CEA, TNS DNA carrier CL DNA normal HD A, ED 0/0, OCD free chocolate tricolour (Dd)
Borders at Work Sid
CEA, PRA, CAT free (2014) CEA DNA normal TNS DNA tested normal IGS DNA tested normal HD B; ED, SD, kręgosłup free czarny trikolor (smooth) waga: ~20kg, wzrost: ~55cm
1/1
RODOWÓD
Bright Star Speedy Dream [Cze]
born 16 Feb 2010, hips HD-A,
elbows 0/0, CEA, PRA, CAT free,
Glaucoma free
CEA, TNS DNA carrier
CL DNA normal
Spot Kemi (ISDS 272008)
Medium Black & White, born 21 Jul 2004, CEA normal
2012 1st Llangadog Trial
Finalist 2010 Supreme Championship
Welsh Team Member 2011 International
Royal Welsh Show Champion
2008 World Trial Finalist
2008 North Wales Open Championship double lift final Champion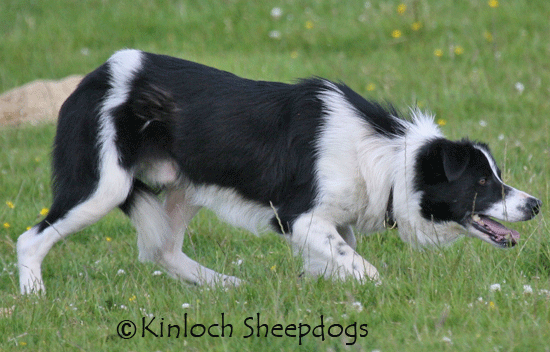 Karven Bracken (ISDS 314711)
born 6 Mar 2011
HD A, CEA DNA normal
eyes tested clear
Trial 2
Jaff (ISDS 231424)
born 13 Apr 1997
Kemi Gypsy (ISDS 262209)
Smooth Black & White, born 3 Jul 2002
Int Sup Ch Dewi Tweed (ISDS 278783)
born 23 Feb 2005, hips 6/4,
CEA normal, CEA, PRA free,
ED - 0
3rd in 2013 Welsh National
7th in 2012 International Supreme Championship
15th in 2012 Welsh Team
9th in Welsh National
7th in Welsh National
1st in 2009 International Supreme Championship
11th in 2009 Welsh National
Llangadog Gary (ISDS 308277)
born 24 Apr 2010, hips HD-A,
CEA normal, TNS normal
European Continental Champion 2015
2nd place Final Pre-Continental 2015
Team member and semi finals World Trial 2014
Team member and 3rd place Continental 2014
Dutch National Champion 2013
Winner Swiss Open 2011, 2012 and 2013
Spot (ISDS 281596)
Medium Black & White, born 25 Nov 2005
Moss (ISDS 260050) [Irl]
Smooth Black Tricolour, born 11 Jul 2002
Sali (ISDS 262198)
Rough Black & White, born 12 Oct 2002
Bill (ISDS 252806)
Smooth Black Tricolour, born 15 Aug 1999
Connie (ISDS 233290)
Rough Black & White, born 14 Apr 1997
Bright Star Speedy Dream [Cze]
born 16 Feb 2010, hips HD-A,
elbows 0/0, CEA, PRA, CAT free,
Glaucoma free
CEA, TNS DNA carrier
CL DNA normal
Glad With You Gasko Prim [Cze]
born 30 Dec 2003, hips HD A
CEA, PRA free
CEA DNA Normal
TNS Normal po rodzicach/by parentage
Athea Angel Budgerigar [Cze]
born 18 Jul 2007
DKK: 0/0 - HD A
CEA, PRA, Glaucoma free
CEA DNA Carrier
CL DNA Normal, MDR1 Normal
Beesting Red Skelton JW
born 20 Feb 2000, Hipscore 4:4 HD-A, CEA carrier, TNS normal
CEA-free 7 tyg., PRA/KAT/Glaukom-free 2011
Beesting Cherry (ISDS 231262)
born 8 Apr 1997, hips 4/5,
CEA carrier
Caristan Coming Storm
born 20 Aug 1996, hips 5/6,
CEA, CL, TNS normal
Int. Ch. Ghost Of Pinewood Country [Aut]
born 7 Feb 2004, hips DKK-0/0 (HD-A), ED 0/0, elbows 0/0,
CEA carrier, TNS normal
PRA,CEA, Glaucoma clear (05, 07, 09, 11)
DNA CEA Optigen test carrier
DNA TNS test - not TNS
MDR1 N/N (+/+) Normal
A3, ZVOP, ZOP, ZZO, ZPU1, BH, ZVV1, IPO1, SchHA, ZPO1
Deu (Club+VDH) Ch Kuhaylan's Australia Red Shane [Deu]
born 5 Mar 1999, hips HD A,
CEA normal, CEA, PRA, CAT free
Aut Ch Angelface Of Pinewood Country [Aut]
born 20 Aug 1998 A3 BGH1 BGH2 gepr. Therapiehund
HD 0 CEA PRA KAT frei, angekört
Svk Youth Ch Cze Ch Geri Foxy Fox [Cze]
born 4 Apr 2003, hips HD A,
CEA, CL, TNS normal, CEA, PRA free do 2009, ZOP, LA1
Dajenn Foxy Fox [Cze]
born 18 Oct 2002, hips DKK: 2/0 (HD C), CEA normal, TNS carrier, CEA, PRA free 2006